Remoción de azul de metileno en solución acuosa empleando fibra lignocelulósica
Karla Andrea Olmos Dávila

Tecnológico de Estudios Superiores de Jocotitlán

Raymundo Sánchez Orozco

Moisés Solís Alvarado

Lina Agustina Bernal Martínez
Palabras clave:
Azul de Metileno, Cinética de adsorción, Typha latifolia
Resumen
Se investigó el potencial de la biomasa Typha latifolia (TL) en la eliminación de azul de metileno (AM) contenido en soluciones acuosas. La TL se utilizó sin ninguna modificación química previa. Los experimentos de adsorción por lotes se llevaron a cabo bajo parámetros de operación variables de pH, concentración inicial, tiempo de contacto y dosis de adsorbente. Para el análisis de datos, se utilizaron isotermas de equilibrio y cinéticas de adsorción. La morfología de la superficie del adsorbente y las posibles interacciones entre la TL y el AM se caracterizaron mediante microscopía electrónica de barrido (SEM) y espectroscopia infrarroja por transformada de Fourier (FT-IR), respectivamente. De acuerdo con los resultados obtenidos, los datos experimentales se ajustaron al modelo de Langmuir, con una capacidad máxima de adsorción de 127 mg/g. La eficiencia de eliminación del colorante alcanzó un valor máximo del 98%. Los resultados de este trabajo revelaron que la TL puede utilizarse como una alternativa potencial para la eliminación rápida de AM contenido en soluciones acuosas.
Citas
Anisuzzaman, S. M., Joseph, C. G., Krishnaiah, D., Bono, A., and Ooi, L. C. (2015). Parametric and adsorption kinetic studies of methylene blue removal from simulated textile water using durian (Durio zibethinus Murray) skin, Water Sci. Technol. 72(6), 896-907.
Chowdhury, S., Chakraborty, S., and Saha, P. (2011). Biosorption of basic green 4 from aqueous solution by Ananas comosus (pineapple) leaf powder, Colloids Surf. B: Biointerf. 84(2), 520-527.
Dutta, S., Bhattacharyya, A., Ganguly, A., Gupta, S., and Basu, S. (2011). "Application of response surface methodology for preparation of low-cost adsorbent from citrus fruit peel and for removal of methylene blue," Desalination 275(1-3), 26-36.
de Lima, A. C. A., Nascimento, R. F., de Sousa, F. F., Filho, J. M., and Oliveira, A. C. (2012). "Modified coconut shell fibers: A green and economical sorbent for the removal of anions from aqueous solutions," Chem. Eng. J. 185-186, 274-284
Esan, O. S., Abiola, O. N., Owoyomi, O., Aboluwoye, C. O., and Osundiya, M. O. (2014). Adsorption of brilliant green onto luffa cylindrical sponge: Equilibrium, kinetics, and thermodynamic studies, ISRN Phys. Chem. 2014,743532.
Etim, U. J., Umoren, S. A., and Eduok, U. M. (2016). Coconut coir dust as a low cost adsorbent for the removal of cationic dye from aqueous solution, J. Saudi Chem. Soc. 20, S67-S76.
Garba, Z. N., Ugbaga, N. I., and Abdullahi, A. K. (2016). "Evaluation of optimum adsorption conditions for Ni(II) and Cd(II) removal from aqueous solution by modified plantain peels (MPP)," Beni-Suef Univ. J. Basic Appl. Sci. 5(2), 170-179.
Gouamid, M., Ouahrani, M. R., and Bensaci, M. B. (2013). Adsorption equilibrium, kinetics and thermodynamics of methylene blue from aqueous solutions using date palm leaves, Energy Procedia 36, 898-907.
Hameed, B. H. (2009). "Spent tea leaves: A new non-conventional and low-cost adsorbent for removal of basic dye from aqueous solutions," J. Hazard. Mater. 161(2- 3), 753-759.
Hameed, B. H., and Ahmad, A. A. (2009). "Batch adsorption of methylene blue from aqueous solution by garlic peel, an agricultural waste biomass," J. Hazard. Mater. 164(2-3), 870-875. DOI: 10.1016/j.jhazmat.2008.08.084
Hameed, B. H., and El-khaiary, M. I. (2008). "Sorption kinetics and isotherm studies of a cationic dye using agricultural waste: Broad bean peels," J. Hazard. Mater. 154(1-3), 639-648. DOI: 10.1016/j.jhazmat.2007.10.081
Hameed, B. H., Mahmoud, D. K., and Ahmad, A. L. (2008a). "Equilibrium modeling and kinetic studies on the adsorption of basic dye by a low-cost adsorbent: Coconut (Cocos nucifera) bunch waste," J. Hazard. Mater. 158(1), 65-72.
Irem, S., Mahmood Khan, Q., Islam, E., Jamal Hashmat, A., Anwar ul Haq, M., Afzal, M., and Mustafa, T. (2013). "Enhanced removal of reactive navy blue dye using powdered orange waste," Ecol. Eng. 58, 399-405.
Kumari, M., and Tripathi, B. D. (2015). Efficiency of Phragmites australis and Typha latifolia for heavy metal removal from wastewater, Ecotoxicol. Environ. Saf. 112, 80-86.
Lu, Y., and Liang, Q. (2013). "Removal of Pb(II) from vanillin solution by acid-modified cattail biomass," BioResources 8(2), 2631-2640.
Meng, H., Wang, X., Tong, S., Lu, X., Hao, M., An, Y., and Zhang, Z. (2016). Seed germination environments of Typha latifolia and Phragmites australis in wetland restoration, Ecol. Eng. 96, 194-199.
Peydayesh, M., and Rahbar-Kelishami, A. (2015). "Adsorption of methylene blue onto Platanus orientalis leaf powder: Kinetic, equilibrium and thermodynamic studies," J. Ind. Eng. Chem. 21, 1014-1019.
Rebaque, D., Martínez-Rubio, R., Fornalé, S., García-Angulo, P., Alonso-Simón, A., Álvarez, J. M., Caparros-Ruiz, D., Acebes, J. L., and Encina, A. (2017). Characterization of structural cell wall polysaccharides in cattail (Typha latifolia): Evaluation as potential biofuel feedstock, Carbohydr. Polym. 175, 679-688.
Rodriguez-Hernandez, M. C., Garcia De la-Cruz, R. F., Leyva, E., and Navarro-Tovar, G. (2017). "Typha latifolia as potential phytoremediator of 2,4-dichlorophenol: Analysis of tolerance, uptake and possible transformation processes," Chemosphere 173, 190- 198.
Saif Ur Rehman, M., and Han, J. I. (2013). Biosorption of methylene blue from aqueous solutions by Typha angustata phytomass, Int. J. Environ. Sci. Technol. 10(4), 865-870.
Saif, M., Rehman, U., Kim, I., and Han, J. (2012). Adsorption of methylene blue dye from aqueous solution by sugar extracted spent rice biomass, Carbohydr. Polym. 90(3), 1314-1322.
Shakoor, S., and Nasar, A. (2016). "Removal of methylene blue dye from artificially contaminated water using Citrus limetta peel waste as a very low cost adsorbent," J. Taiwan Inst. Chem. Eng. 66, 154-163.
Shi, Q., Zhang, J., Zhang, C., Li, C., Zhang, B., Hu, W., Xu, J., and Zhao, R. (2010). "Preparation of activated carbon from cattail and its application for dyes removal," J. Environ. Sci. 22(1), 91-97.
Zhou, Q., Gong, W. Q., Li, Y. B., Chen, S. H., Yang, D. J., Bai, C. P., Liu, X. F., and Xu, N. (2011). Biosorption of methylene blue onto spent corncob substrate: Kinetics, equilibrium and thermodynamic studies, Water Sci. Technol. 63(12), 2775-2780.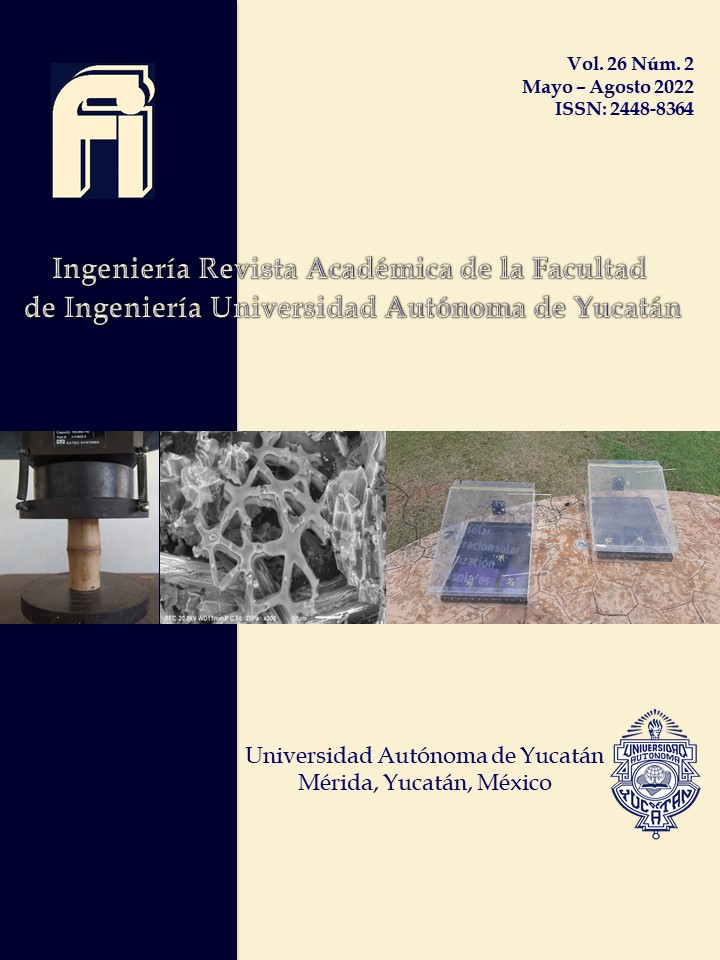 Sección
Artículos de Investigación
Esta obra está bajo licencia internacional
Creative Commons Reconocimiento-NoComercial 4.0
.
Avisos de derechos de autor propuestos por Creative Commons
1. Política propuesta para revistas que ofrecen acceso abierto
Aquellos autores/as que tengan publicaciones con esta revista, aceptan los términos siguientes:
Los autores/as conservarán sus derechos de autor y garantizarán a la revista el derecho de primera publicación de su obra, el cuál estará simultáneamente sujeto a la Licencia de reconocimiento de Creative Commons que permite a terceros compartir la obra siempre que se indique su autor y su primera publicación esta revista.
Los autores/as podrán adoptar otros acuerdos de licencia no exclusiva de distribución de la versión de la obra publicada (p. ej.: depositarla en un archivo telemático institucional o publicarla en un volumen monográfico) siempre que se indique la publicación inicial en esta revista.
Se permite y recomienda a los autores/as difundir su obra a través de Internet (p. ej.: en archivos telemáticos institucionales o en su página web) antes y durante el proceso de envío, lo cual puede producir intercambios interesantes y aumentar las citas de la obra publicada. (Véase El efecto del acceso abierto).